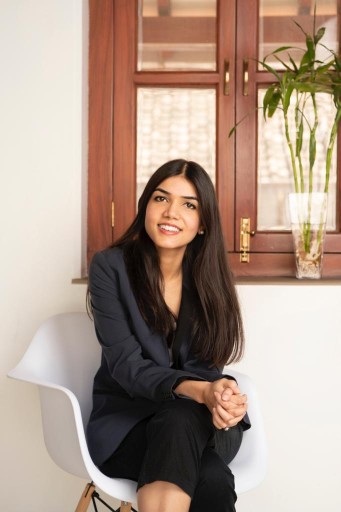 Ishita Pateria, MSc, MBPsS
Ishita Pateria is a member of the British Psychological Society, Bombay Psychological Association and Counsellors Association of India. She has over fourteen years of clinical experience in the field of mental health including depression, anxiety, phobia, stress management, self esteem issues, eating disorders, couple counselling and family counselling, grief/bereavement management, substance abuse, compulsive addiction (including gambling), domestic abuse, self harm, trauma, PTSD, fertility and cancer amongst others.
While pursuing her Bachelor of Arts from St. Xavier's College, Mumbai in Psychology and Sociology, Ishita started her career by being a research coordinator at the psychiatry department of Jaslok Hospital, Mumbai under Dr. Rajesh Parikh. She coordinated psychiatric clinical trials involving depression, bipolar disorder, schizophrenia and insomnia and provided cognitive and supportive care to the patients. She soon became an assistant psychologist and took patient histories and helped in diagnostics and treatment plans for the patients. She also first authored a chapter on the Role of stress in First Trimester Miscarriage: Pregnancy at Risk in A Practical Approach to High Risk Pregnancy and Delivery, 5th edition along with Dr. Firuza Parikh and Dr. Shamsah Sonawalla.
She then moved to London where she first finished a certificate course in counselling from Regents College, London followed by a Master of Science in Mental Health & Psychotherapy from St. Bart's Hospital, Queen Mary University, London. Her thesis emphasized on the effect of divorce on mental health. During this time she worked as an assistant psychologist at Promis Clinics, London where she counselled adolescents and adults suffering from various substance addictions, compulsive behaviors, eating disorders, personality disorders, self-harm, depression and anxiety.
After completing her degree, she retuned back to India where she worked as a counselling psychologist for Dr. Rajesh Parikh at at the psychiatry department of Jaslok Hospital, Mumbai. She counselled adults suffering with depression, anxiety, phobias, stress and eating disorders amongst others. She soon also became the counselling psychologist for the IVF department (under Dr. Firuza Parikh) at Jaslok Hospital. Here, she provided individual and couples counselling for issues including infertility, marital problems, stress, depression, etc. Ishita then decided to work with cancer patients at Tata Hospital and therefore joined an NGO – Vcare, where she counselled adults and children suffering from cancer and their caregivers accordingly.
In need of further training, Ishita returned to London and pursed her second Master of Science in Counselling Psychology from City University, London. During this time, she worked as a counselling psychologist trainee at the National Problem Gambling Clinic; a NHS clinic which focused on adults suffering with problem gambling and dealt with comorbid problems including other compulsive addictions, depression, anxiety and suicide. She also worked as a counselling psychologist trainee at Each Counselling, London where she counselled women and children suffering from domestic abuse. She counselled them on matters including abuse, grief, trauma, PTSD, bereavement, depression and panic disorders amongst others. During this time she specialized in cognitive behavioral therapy (CBT) and person centered therapy.
Ishita's main premise is to provide a safe and confidential environment, where clients become aware and process their feelings, thoughts and emotions. Each individual is unique and presents with their own predispositions, family background, culture, ecosystem, life experiences and circumstances. These and many more variables contribute towards one's personality, value and belief systems. She thus believes in using an integrative approach adopting different therapeutic modalities according to each client's personal needs while incorporating and maintaining both western and eastern philosophies as required. By maintaining a collaborative and therapeutic alliance, she aims to facilitate growth and empowerment by helping clients recognize and challenge unhealthy cognitive and behavioral patterns and support them to eventually build a healthier and happier relationship with themselves and others.
In addition to client care, Ishita also conducts awareness talks at corporate organisations in order to decrease stigma and the taboo attached to mental health. Furthermore, motivational speeches and interviewing are often conducted to further create awareness and tackle various issues around mental health. The most common ones include depression, anxiety, stress and self esteem. She also works as a consultant to organisations and helps them to provide an environment supporting mental health and improving mental health facilities.
Through State of Mind, she aims to continue creating awareness and reaching out to individuals and companies through various channels. Her goal is to make a difference and help those who suffer and feel shame in reaching out for help.